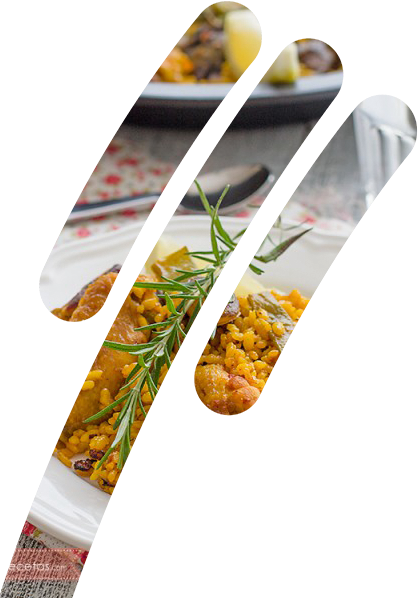 Do you want to discover the most traditional recipes of Spanish and Valencian cuisine?
If the answer is yes then come to Valencia Club Cocina. It's time to get into a real kitchen and learn the secrets of these traditional dishes from our experienced chefs.
We are a cooking school with more than 13 years of experience. For us it is exciting and very enriching to be able to transfer a piece of Mediterranean gastronomy to any corner of the world.
The day doesn't start in the kitchen but by visiting the Algiros market. You are going to see the best, fresh Mediterranean ingredients that are part our culinary culture. Once you have learned about the essence of the neighborhood, it's time to proceed with our Paella workshop.
Enjoy the meal made by yourself and share your experience with the chef and friends by toasting with wine and sangria!

Paella...
You are going to learn how to make a 100% authentic Valencian paella

And something more…
Other tasty traditional dishes

Tasting
Prepare you dish with our expertise chef 

Market visiting
Feel and touch fresh Mediterranean ingredients 

Diploma
Signed by VCC for attending the cooking class
The Valencian paella will be the main axis. There are so many types of paella… But we know which one is the real one, the one 100% from Valencia! Once in the kitchen, we´re going to put on our aprons and then proceed in cooking an authentic Valencian paella together. 
But apart from the Valencian paella, we will show you other "essentials" of our country: Spanish omelette, coca en llanda (traditional Valencian sponge cake) … These options have been made for many generations because of how simple and delicious they are. 
Of course, after the cooking class you will taste everything you prepared with our chefs. As appetizer, you will have a good ham, potato chips, breadsticks. What´s more, we are going to toast to how much fun we're having with sangria and some of the most well-known local wines in the area!
And finally, in this complete experience we will also visit the Market Algirós*, located in front of our school. A market that has local products and top quality.